Journey to Historic Walhalla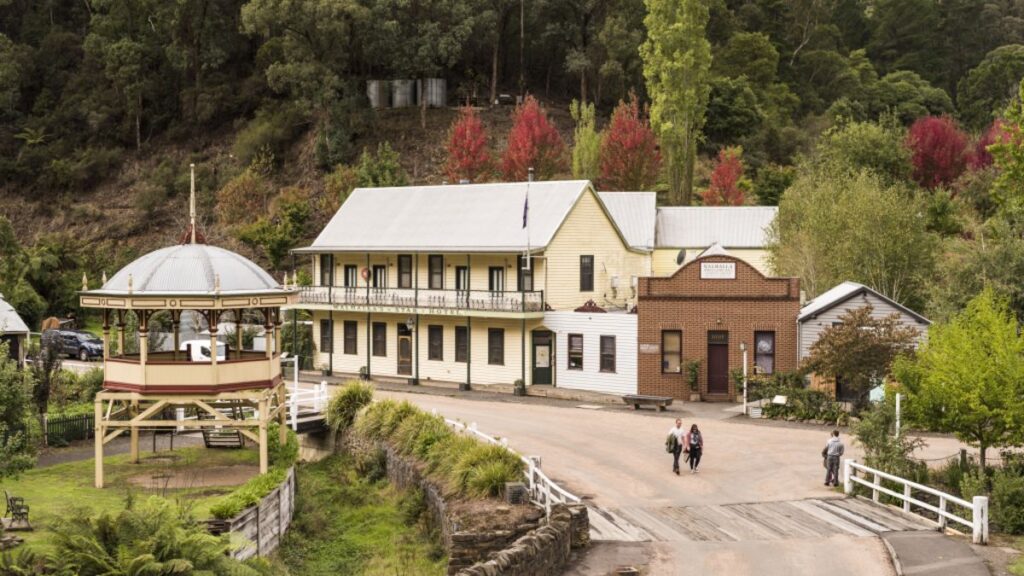 Walhalla, a rich gold producer for 50 years, is a remote and picturesque mountain township. It is hard to imagine a more difficult site for a town than the steep, narrow valley of Stringers Creek as it winds down through the dense forests of the Baws Baws. Yet in its heyday, between 1880 and 1895, more than 4000 people lived there.  There's nowhere else in the world quite like the curious village of Walhalla.
Set in a deep valley and surrounded by plunging hills, this picture-perfect town is the place time forgot. Lovingly preserved from its once-upon-a-time gold mining era, the drive in on dirt roads is no accident – it's a respectful nod to its heritage and gives a delightful oldsy feel.
We enjoy as Guided Town Walk and wander the main street and shopfronts. Take in the Old Mountain Brass Band Rotunda, Corner Store, Fire Station and Post Office & Museum. Above the town sits the unique cliff-top Walhalla Cemetery, with more than 1,000 graves testament to the hardship of the past. Even the local cricket oval is not without its quirks – the top of the hill was lopped off in an effort to create level ground.
The train station is every bit as delightful as you'd hope a station from the early 1900s might be. The Walhalla Goldfields Railway runs on select days between Walhalla and Thomson stations. The restful journey takes you through the surrounding forest, alongside the cheerfully ambling Stringers Creek, over trestle bridges and the impressive Thomson River Bridge.
We will also take an underground adventure on a guided tour through the Long Tunnel Extended Gold Mine, learn about the mining methods and see the quartz reef that put Walhalla on the world's stock markets.
Cost:  TBA.         (currently taking expressions of interest)
Small group tour, maximum of 10 guests with Jacquey Turner as your driver/guide.
Includes Gippsland Travel tour escort, home pick from Warragul & Drouin; Goldfields Tourist Railway ride; Historic Walhalla Guided Walking Tour; Lunch at the Wally Pub; Long Tunnel Extended Gold Mine Tour water on board, hand gel.
Group size:  maximum 10 passengers