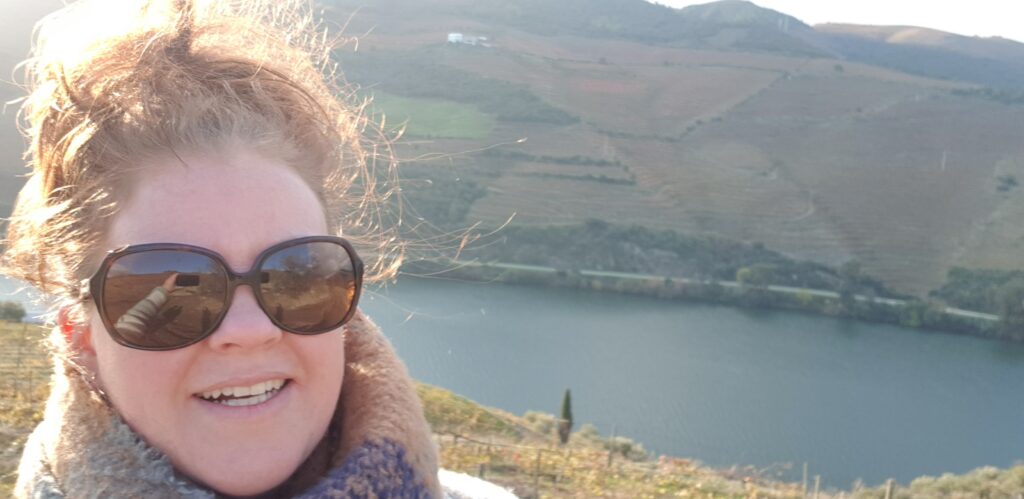 I recently toured through parts of Portugal with Backroads Touring, a small group specialist. Our tour was slow-paced, with no early mornings and great for the experienced traveller. We stayed a small boutique hotels and everything was very locally focussed.
Following are some of the highlights from my time in Portugal:
Starting in Lisbon, we had the lovely experience of learning to paint tiles in what looked just like a private house, before driving to the 12th century Pena Palace in Sintra. On our way back we stopped at Park Eduardo VII to enjoy the views of the garden right to the ocean.
On our way to Alvados, a small village surrounded by rolling hills, we stopped at Obidos – a super cute village surrounded by an old castle.  This was my favourite – the atmosphere when walking down the narrow streets, all the buildings with their white concrete walls and decorations, and shops lining the streets with local produce, porcelain, knickknacks and souvenirs.
At Tomar we visited the Convent of Christ, originally a 12th century Knights Templar stronghold and after lunch we had a go at picking olives at a local farm.
Our next destination was Viseu, stopping on the way at the Sanctuary of Fatima, a Catholic pilgrimage site. The Capelinha das Aparições marks the spot where the Virgin Mary allegedly appeared in 1917. The city has become in one of the most important international religious destinations, receiving between six and eight million pilgrims a year.
At Lamego we walked around the Our Lady of Remedies Sanctuary and rather than walking up the 600 steps to the heart of the town, we took the easy way and drove up to the top and walked down to the bottom.
We enjoyed a boat ride along the Duoro River, following by a shopping expedition for supplies for a picnic dinner.
The Aveleda Winery and Gardens were established around 300 hundred years ago and after a walk around the garden, we had a wine tasting with more cheese and olives.
On a day trip to Guimaraes we visited the Palace of the Dukes of Braganza and the historic town centre.
We spent a day doing a city tour of Porto, ending with a port tasting, of course. Porto is a beautiful city located along the Douro River. It also houses the bookshop that inspired the staircases in Harry Potter.
After an early flight to Barcelona for a quick 2-night stop, we headed home.
I found the scenery in Portugal quite surprising. I was not expecting the mountains to be so close to the ocean, and was very impressed by the lush green of the forests and rolling hills of wineries and olive farms.
The villages were delightful and one thing I can say about the Portuguese themselves – they are generous hosts.  Where ever we went we were offered homemade breads, olives, wonderful cheese, cakes, jams and wine.